Lumasky Drone Show Advantages
Up to 5000 drones in a show
Light-weight drones, no need to register
150+ projects done worldwide
1 month from idea to show
4 weeks before show
Project discussion
We decide on location, time, number of drones, choreography and other options
2-3 weeks before show
Drone show design
We create light animation, choreography, synchronize music and color and present the show in 3D
3-4 days before show
Equipment and team arrival
Drones, equipment and team arrive and preparations start
1-2 days before show
Test launch
We run a full-scale rehearsal to make sure everything goes nominal
Showtime!
Launchpad and safety requirements
Requirements
The launchpad must be within 200 meters of the main flight area;
It must be even, with no tall trees or buildings present nearby. The best options are a football field, beach, road, or parking lot.
Dimensions
100 drones 250 drones 750 drones Safety
Drones must never fly above people.
Drones must never fly over traffic.
Only Lumasky team members are allowed to be on site during take-off and landing.
Frequently Asked Questions
A drone light show is a new word in entertainment technology. It is a choreographed movement of drones that are equipped with bright LED panels, pyrotechnics, or other payloads suitable for light performance, and connected to a computer. Depending on the number of UAVs in a show, one can find a variety of applications for this great technology and make custom formations up to 1 km wide and tall and promote business of any size and shape. Quadcopters can portray in the sky almost anything one can imagine from humble silhouettes to enormous moving 3D objects or even live portraits people can't help catching on video. Each drone has its own flight route designed to avoid collisions with all other drones and is controlled by a computer on the ground. Drone shows can be also used along with fireworks.
Take a look at some shows we delivered.
How much do drone shows cost?
Multiple factors affect the price, like the show's content, drone quantity, event place and time, logistics, team accommodation, and even the drone light show provider's name. Please reach out to us as soon as possible via email or this website to ensure you get additional info and discuss the details and services we can offer.
How many drones are required for my show?
Depending on the scale of the event, our team recommends using a range of 200-300 pieces for a private party, 500 drones for city-scale events, and 1,000+ quadcopters for national-scale professional celebrations. Notice that the more UAVs you use, the more complex and detailed formations can be performed. A light show of 2,000+ drones may break several world records and be remembered for a unique view. Moreover, with greater number of drones your own animation becomes more flexible.
How long does a drone show last?
A perfect drone show lasts up to 15 minutes before drones return home. Low temperatures or strong wind may shorten the duration of shows to 8-10 minutes. This time allows us to bring up to the sky from 9 to 15 images of any origin, from brand logos and large writings to shining abstract formations and perfectly drawn animals and creatures of any type.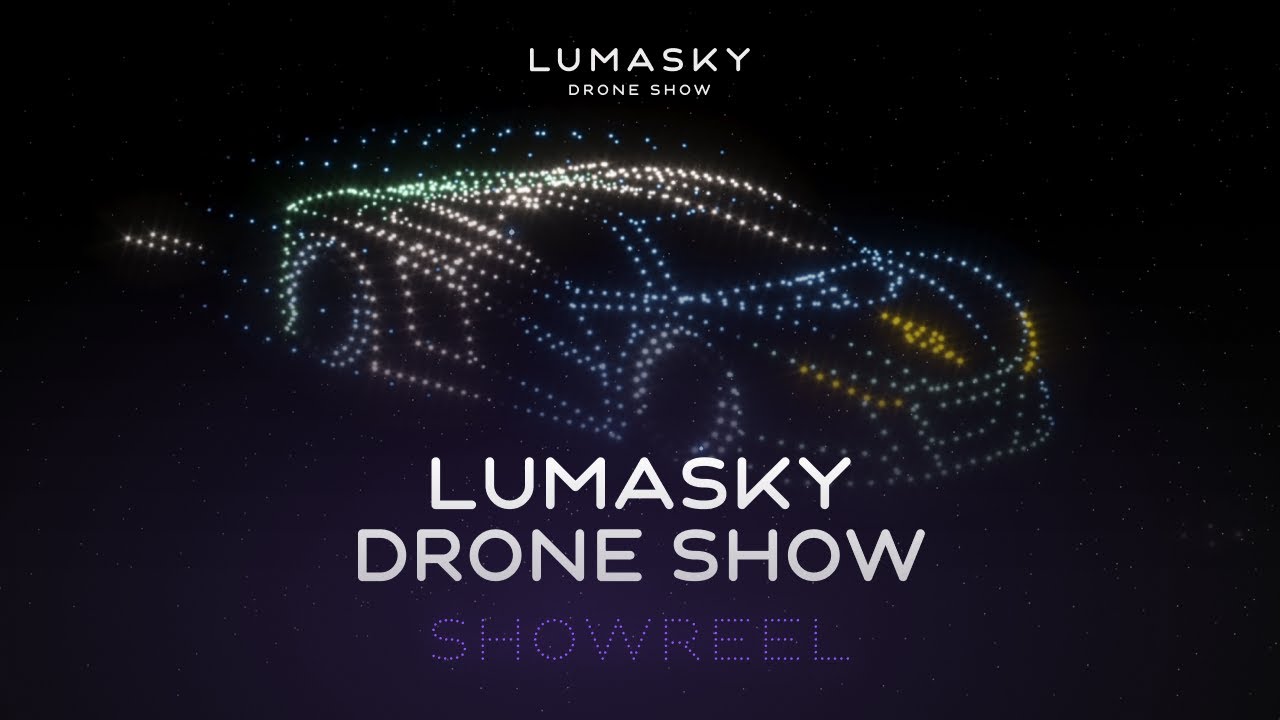 Who we are
Lumasky Drone Light Show company team members are pioneers of large-scale drone shows and experienced professionals and inspired artists with years spent in the event field. We work hard to widen the possible boundaries of this technical miracle and provide you and your brand with a second-to-none service today and in the future. United in our passion to push the limits of sky art production, we love what we do and explore what we are capable of. Being one of the leading companies on the market, we struggle to tell amazing stories to your audience at your event with our swarms. Discover a new way to wow your clients and customers by adding a spectacular drone display to your night canvas. Book your dates now and don't forget to follow us on social media! Learn more about Lumasky.